CampNaNoWriMo
, National Novel Writing Month, is less than 9 hours away and I am doing my final prepping and organization. Camp is a version of NaNoWriMo held in November where your goal is 50k wordies in a month. Camp is similar though you set your own goal for wordies and can write anything, not just a novel. I am sticking with 50k wordies as my goal. I finished in November and I believe I can again, even though I have at least 3 days where I can't write due to family and medical issues.
I have set up
Scrivener
and
Aeon Timeline
. I love the software. It makes it so simple to keep track of my characters and places from one novel in the series to the next. Below I will give a brief description of each and list a few more writer's tools. I will have to tell you I was a little worried about trying them out but once I did I can't imagine living or writing without them. If you know about werewolves they live in packs but also their human parts move from time to time. Without Scrivener I wouldn't be able to keep track of which pack everyone is in. As for Aeon Timeline, I can keep track events from one novel in the series to another.
Scrivener:
This is a program that helps organize and track everything you can imagine; from characters, places and all other little things. They have templates for fiction, non-fiction, thesis, and many more. It's not only for writer's but students as well.
Here is are a few scene shots.
Complete writing studio
Write, Structure and revise
Research within reach
As you can see it is a tool you won't want to live without once you try it.
Literature and Latte
offers a free 30 day trial, CampNaNoWriMo and NaNoWriMo are a perfect time to use the trial.
Aeon Timeline
is more than a series of events on a never ending line. With Aeon, you can divide your timeline into logical groups, projects, or concurrent arcs. You can model the relationships between events and people, places and ideas. Aeon calculates people's ages for you. And you can link your events with research material such as external files or images that can be displayed inside the application.
More than just a timeline.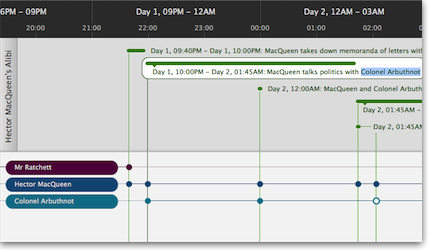 Ultimate Flexibility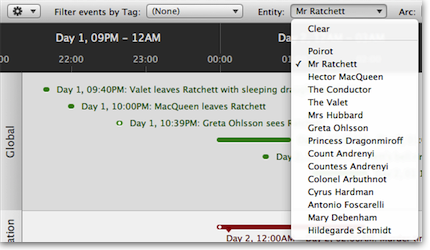 Direct Data Manipulation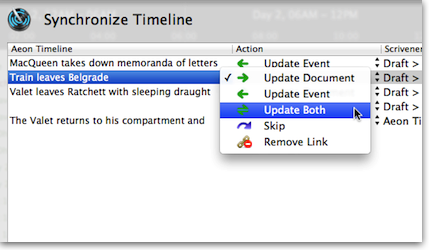 Others are:
LibreOffice Writer
Every writer needs a good word processor for at least some tasks, and LibreOffice has one of the best free offerings around.
TheSage
TheSage is a very powerful dictionary and thesaurus and a stack of useful features.
Sigil
Ideal for e-book authors, Sigil is a capable EPUB editor with a stack of essential features.
TreeSheets
TreeSheets is an interesting note-taking program which takes an unusual approach to organising your ideas.
Kiwix
You've busy on an important project, and need to look something up. You turn to the web, of course - but your internet connection is down. So now what?
Library Management
E-book conversion
Syncing to e-book reader devices
Downloading news from the web and converting it into e-book form
Comprehensive e-book viewer
Content server for online access to your book collection
E-book editor for the major e-book formats
*Disclaimer - I am not the owner of these pictures. I found them on the web for causal fun use on my blog for which I receive no compensation. If this picture belongs to you (you are the copyright owner) please let me know and I will remove it.